Location:  
Gold Hill Gardens, Newcastle CA.
Services: Wedding Ceremony/Reception DJ/MC Package 
Word of mouth is a huge part of the wedding business, and that is just how Theresa and Andrew found us!  The sister of the bride raved to Theresa how much she just had to have DJ Derik and Riptide do there wedding to make it perfect and the way they wanted.   Those words make us glow with pride.  When we first talked with the couple that was the first thing they mentioned.   "My sister could not say enough good things about you."  Right then and there we started planning the couples special day, just the way they say their wedding day!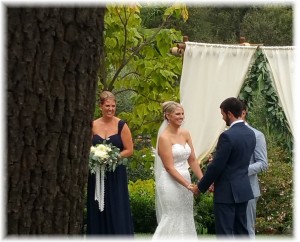 The Ceremony was very elegant and classic affair with the couple choosing timeless songs for her day:
The Feather Song – Alan Silvestri
A Thousand Years- The Piano Guys
Canon in D- The O'Neil Brothers
After the couple exchanged there vows…and shared there kiss to seal them as husband and wife, the new couple was introduced and exited to C.C.R- Up Around The Bend with huge smiles on their faces.   As the couple has few moments to catch their breath, along with some pictures, friends and family moved to the cocktail area.   Greeted by warm tunes and cool drinks, the party got underway.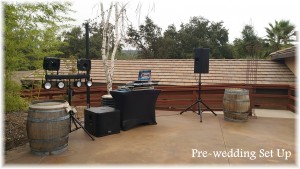 To get the Reception started we introduced the Bridal party with the old school classic: September-Earth, Wind, & Fire , which even had the guests moving in their seats. When it came for the new Mr and Mrs. to make their grand entrance, they went with Hall and Oates-You Make My Dreams Come True.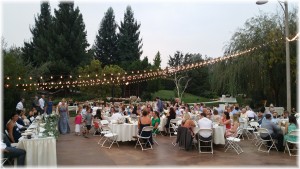 When Theresa and Andrew finished their meals, they went table to table to greet all their friends and family with hugs and kisses.  Love was definetlely in the air and Riptide Entertainment is always happy to be part of the party.  After the toasts and cutting of the cake it was time for the First Dance as husband and wife.  Theresa and Andrew made a last minute change to their song, but we were able to take care of it no problem!  
Fleetwood Mac's-Leather and Lace
 was the couple's choice for their big dance……and they floated around the dance floor smiling into each other's eyes.  The rest of the night was a huge success and we even got some singing in….
YES
….see the video below!
Congratulations guys…..
DJ Derik and Rebecca