Hands down the best D.J. and lighting services you will ever find in NorCal! The minute you contact Derik and his wife Rebecca, you will feel like you've known them for decades. They are truly the dynamic duo who get things done. I met Derik at an event I was at for work and could've have watched him D.J. or talk to him all day long. It was at this event I knew I wanted to have him as our wedding D.J. Derik comes with loads of experience in the industry and just loves what he does.
Our wedding at Boeger winery was flawless. Derik even rolled with the punches when my husband wanted to surprise me with a slide show movie and he wanted to do the money dance (things I didn't have in the wedding timeline). Derik changes, fixes and masters technology. He also has the wedding and event experience to keep the momentum going. Riptide Entertainment will by far exceed your expectations.
Hiring Derik for your event will be one of the best decisions you could ever make. Derik and Rebecca are in constant communication with you from start to finish and they guarantee to keep your party going!       (see BLOG here)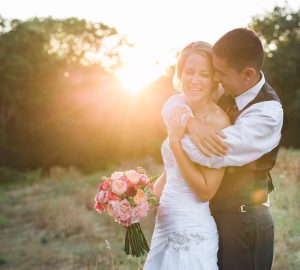 Derik and Rebecca,  THANK YOU so much for everything you did to make our wedding so special!
Everything was perfect!  You helped create the environment we were hoping for.
THANK YOU!!   (See BLOG here)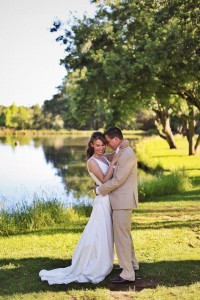 Derik and Rebecca are awesome! From day one, communication with them was extremely easy and comfortable. They respond to e-mails, phone calls, and texts very promptly! We even presented them with a new situation in which we needed microphones during our ceremony on a golf course and there was no power source. Derik solved the problem, got us a small quiet generator, and had everything under control every step of the way.
On the day of our wedding, everything went very smoothly! Derik is great at keeping everything on schedule, announcing things such as the bridal party entering or when it was time to cut the cake, and he plays great music too! We wanted lots of "oldies" and music that would please everyone across generations, and he delivered! We had lots of people out on the dance floor.
Derik and Rebecca add a personal touch that you wouldn't expect to get from your DJ. When I first saw them on my wedding day, they both greeted me with hugs and hellos. When they left the room, one of the bridesmaids asked who they were and thought they were family. She was shocked to learn that it was our entertainment company! They go above and beyond and there are no more words to describe how great they are!     (See BLOG here)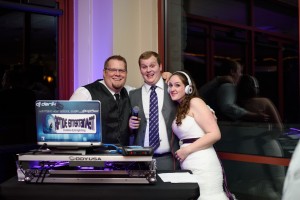 "Derik and Rebecca were really great and easy to work with! Derik did a great job of moving people to the dance floor and getting the party started as well as handling all the other intricate parts of the reception! Very pleased with everything!"    (
See BLOG here
)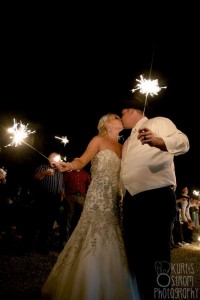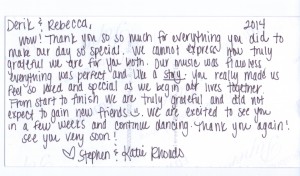 "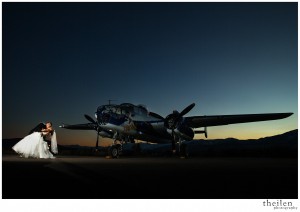 Thank you SO much for making our day very special.  Everybody had a great time.  We couldn't ask for a better DJ!!  You helped our day run very smoothly.  We will definitely recommend you for future weddings and events!"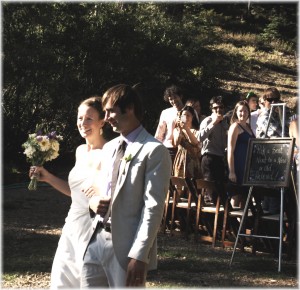 DJ Derik… Thank you so much for being the DJ at our wedding!  We had a great time and loved all of the music.  You and Rebecca made everything super easy for us, which we really appreciated.  Hope you have a great winter and busy summer.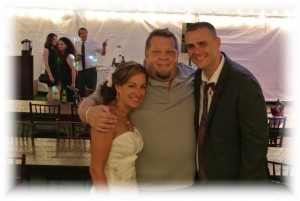 My wife and I knew that a DJ could make or break our wedding. Derik was great. He and Rebecca made us feel very comfortable throughout the entire planning process. They asked all the right questions, and genuinely cared that we had a great event. They were even flexible when last minute we asked if they could come in an hour or so earlier. Derik kept the reception moving. When the caterers were a little behind on pouring champagne, I looked over and he had just grabbed a bottle and started going around the tent, mingling and pouring. The dance floor was packed the entire night. That is not an exaggeration – it started coming apart by the end! Derik, and his music selection and presence were a huge part of that. If you want to have a fun wedding, hire Derik.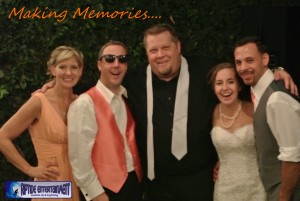 My daughter recently got married and we wanted a DJ that would appeal to all generations and crowd types to make sure that everyone at the wedding was having a great time.  Our expectations were exceeded by leaps and bounds.  Derik did an outstanding job of keeping the energy up and playing just the right music for the moment.  He was also great at interacting with the party, but not overdoing it either.  All in all, I recommend Derik and Riptide for any party or celebration, you will not be disappointed.
Derik did an amazing job helping me celebrate my 40th birthday. He was able to keep my friends and family entertained by accommodating all ages with a wide variety of music selections. His ability to set the ambiance from dinner to an all out dance-a-thon was great. I would highly recommend "Riptide Entertainment" for any occasion and will continue to use them.
[
The Service Awards team loved you and thought you did an amazing job!   We would like to see if you would be available to DJ the event again next year.
Derik and Rebecca with Riptide Entertainment are awesome!  Riptide DJ'd our daughter's wedding recently.  Derik has music from every genre and if you want a specific obscure song he will go get for you.  At this point in my life, I have been to numerous events with DJs and this was hands down the best!  Let's put it this way – ¾ of our guests stayed until the very end and there were three generations of family and friends out there dancing together – what better testament is there than that!  If you have a private or company event please, please consider using these folks!  I truly cannot say enough good things about them.  They gave us a perfect evening and memories that will last forever!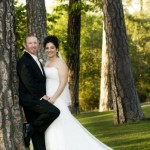 Derik MC'd/DJ'd our wedding and was absolutely fantastic!  He did an awesome job moving thru the evening's lineup of wedding events and keeping everyone entertained at the same time.  His attention to detail and engaging personality was the perfect accompaniment to our perfect day.  I would use him again in a heartbeat!
We have a very eclectic taste in music between the two of us. We enjoy everything from country to rap. Finding a DJ who could keep us happy and the party going we thought would be impossible, but after meeting Derik at a friend's wedding, we knew we had found our man! He and his lovely wife, Rebecca, came to our wedding and were instrumental in making our day fun, relaxed and just the best.

DJ Derik and his wife Rebecca were so amazing. Our wedding was absolutely perfect thanks to them both.They rise above the rest of the competition because they care and it matters to them that you're  happy.  We would recommend them to anyone and everyone! We loved them and know you will too!!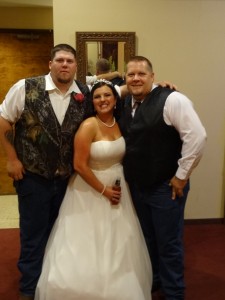 DJ Derik and his wife Rebecca were so amazing. Words can not express how amazing and absolutely perfect our wedding and reception were thanks to both of them. I know from previous experiences how important it is to have a phenomenuel DJ like him coordinating every minute of your event, and they did just that. One thing that's always talked about after a wedding is the DJ and coordination of how everything flows and what the DJ does for the bride and groom! We're happy to say that the services were above and beyond what we could have asked for, or even imagined! From the wall art that he created to the floor art that he had on the dance floor! We cried when we walked in and saw everything! It was a day that we will never forget! They were always willing to help with anything pertaining to the wedding and whenever there was a concern or I needed to speak with them, they were right there to answer the phone. We met numerous times before the wedding and finalized everything so I knew that we didn't have a worry about anything the day of the wedding because Derik and Rebecca had everything under control! I would recommend them to anyone and everyone having a wedding, or any type of event that requires a DJ. They rise above the rest of the competition out there simply because they care and it matters to them that you're happy and remember your event as being one of the best days of your life. It was the best day of our life we can promise you that! It wasn't just dealing with a vendor, it was like talking and interacting with family. We loved them and know you will too!! DJ Derik and his Awesone wife Rebecca are the best DJ company in town hands down! Thank you again for an amazing day that we will never forget! You two are the greatest! 
Read more testimonials for Riptide Entertainment at WeddingWire.com