We use the latest equipment in the industry to deliver the top quality sound and lighting you expect. With a seamless and professional look, your party will shine. Our LED lighting can set any desired mood for YOUR event. We can even CUSTOMIZE your package with monogram projection, slideshows, and personalized specialty songs!
Riptide Entertainment offers a few different customizable packages for DJ/MC services. Our personable and friendly staff is happy to discuss the different options and help you choose a package that best suits your event and budget.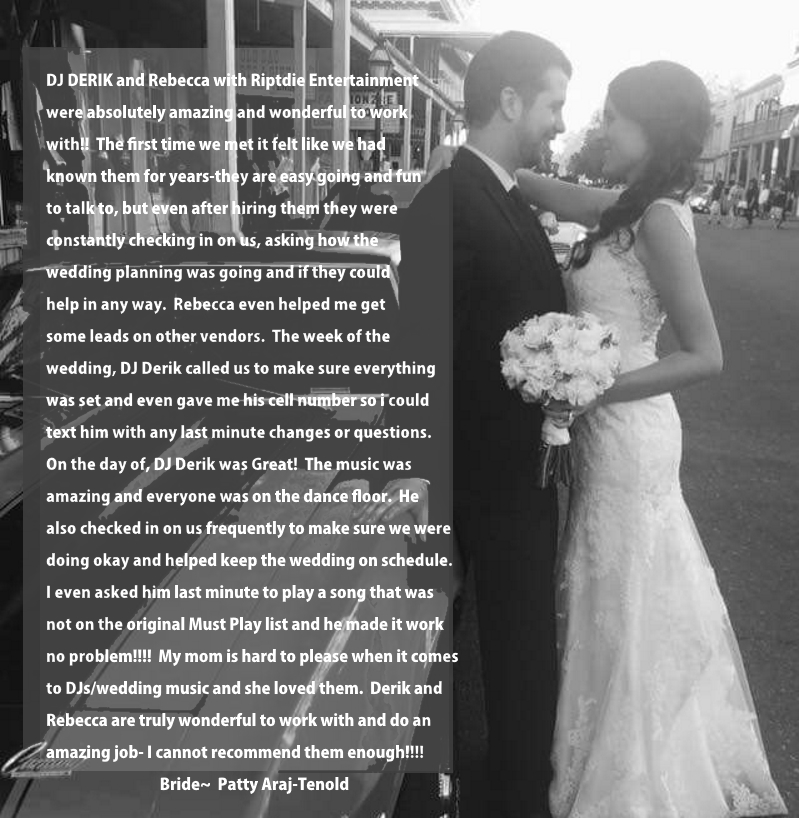 We do things RIGHT! Every client can expect:
Our extensive library of songs spans all genre of music from the 20's to current Hot Hits. We make sure to have the music you want to hear to make your event/party the place to be!  We make sure to have the music you want to hear.  We work with you to set playlists that fit your event.
If you need our help, we can even help plan,coordinate, and keep your event on track.  We take every step possible to make your event as STRESS FREE and enjoyable as possible.
Shure Wireless microphones to deliver clear and crisp vocals so that your audience can hear every important word.
LED lighting to set the mood for a classy & exciting evening,
NO HIDDEN set-up or tear down fees ever!
Unlimited personal consultations to plan and coordinate your wedding day.  We want you to get to know us and feel completely comfortable, and stress free on your wedding day.
4 Hours DJ/MC Services
Unlimited Planning Sessions
Basic Dance Floor Lighting (color wash & dance LED fixtures)
–
–
–
–
–
–
Good Value
5 Hours DJ/MC Services
Unlimited Planning Sessions
Basic Dance Floor Lighting (min. 2 LED fixtures)
Separate powered system for ceremony & reception
Cordless microphones for ceremony
–
–
–
–
Best Value
6 Hours DJ/MC Services
Unlimited Planning Sessions
Upgraded Dance Lighting (2 moving-head dance lights)
Separate powered system for ceremony & reception
Cordless microphones for ceremony (lapel or handheld)
Custom Monogram creation and projection
Custom First Dance or Special Dance song creation
Copy of Custom music on CD or MP3
Starlight laser to add stars to ceiling