"
WE WANT TO PARTY AND DANCE!
"  That is one of the first things we hear when we meet with our couples prior every wedding.  Music is my passion.  The creative side of blending music and controlling the energy on a dance floor is so amazing.  Seamlessly mixing all genres of music together so that your party is one that you won't stop talking about.  Having the experience and skill to pick the right songs, at the right time to keep the party going is a true skill.  Blending each song together so you just don't know what song is coming in next and keeping the energy flowing , so you don't want to leave the floor.  Before you know it……Grandma is dancing to the newest Top 40 hit, when she started with a Motown or Big Band song that she loved just minutes earlier!
In the planning of your event, we certainly discuss your music preferences with each couple.  Styles of musical choices, must plays, as well as any songs or choices that are not wanted are gone over in the planning.  Of courses requests are also encouraged as well with the guidelines of YOU, the bride and groom setting the limitations.  Together, you can expect a top shelf performance that will keep you and your guests on the dance floor.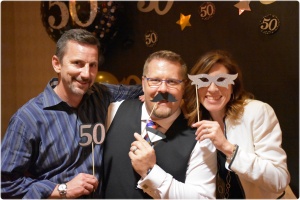 You are AWESOME.  Worked with many DJ's in my day and you are by far….THE ABSOLUTE BEST!
Check out some live DJ Derik mixes!
* Sample Motown/Top 40 Dance Mix
* Sample COUNTRY Hits Mix
CUSTOM FIRST DANCE and SPECIAL SONG MIXES:
We can make a custom song mix for your first dance or specialty dance.   We record your voice with any message, and add it to the song of your choice!  Whatever your imagination can dream up…..we can make it happen for you on your big day!  Here are a couple of samples to give you a better idea what we can do for you.
Here is the mix we did for KCRA 3-Meteorologist, Tamara Berg's wedding~
This couple made there song about how they feel about their wedding day and there new husband/wife~